Ramsar Wetlands
Wetlands are among the most diverse and productive ecosystems across the globe. They provide essential services, supply all our fresh water and support countless invertebrates, reptiles, amphibians, birds and mammals. Despite their importance, they continue to be degraded.
'Ramsar wetlands' are named after the 'Convention on Wetlands', an intergovernmental treaty that provides the framework for the conservation and wise use of wetlands and their resources. It was adopted in the Iranian city of Ramsar which is where the word 'Ramsar' comes from. Ramsar wetlands can come in many forms including lakes and rivers, underground aquifers, swamps and marshes, wet grasslands, peatlands, oases, estuaries, deltas and tidal flats, mangroves and other coastal areas, coral reefs, and all human-made sites such as fish ponds, rice paddies, reservoirs and salt pans (Ramsar.org).
The Bellarine Ramsar project aims to raise awareness about our local Ramsar site - 'Port Phillip Bay (Western Shoreline) and Bellarine Peninsula'. This site includes wetlands at Lake Connewarre, Swan Bay, Mud Island, Point Wilson, Werribee River and Point Cook (see map below). These sites were chosen to have international significance as they meet a number of critieria including: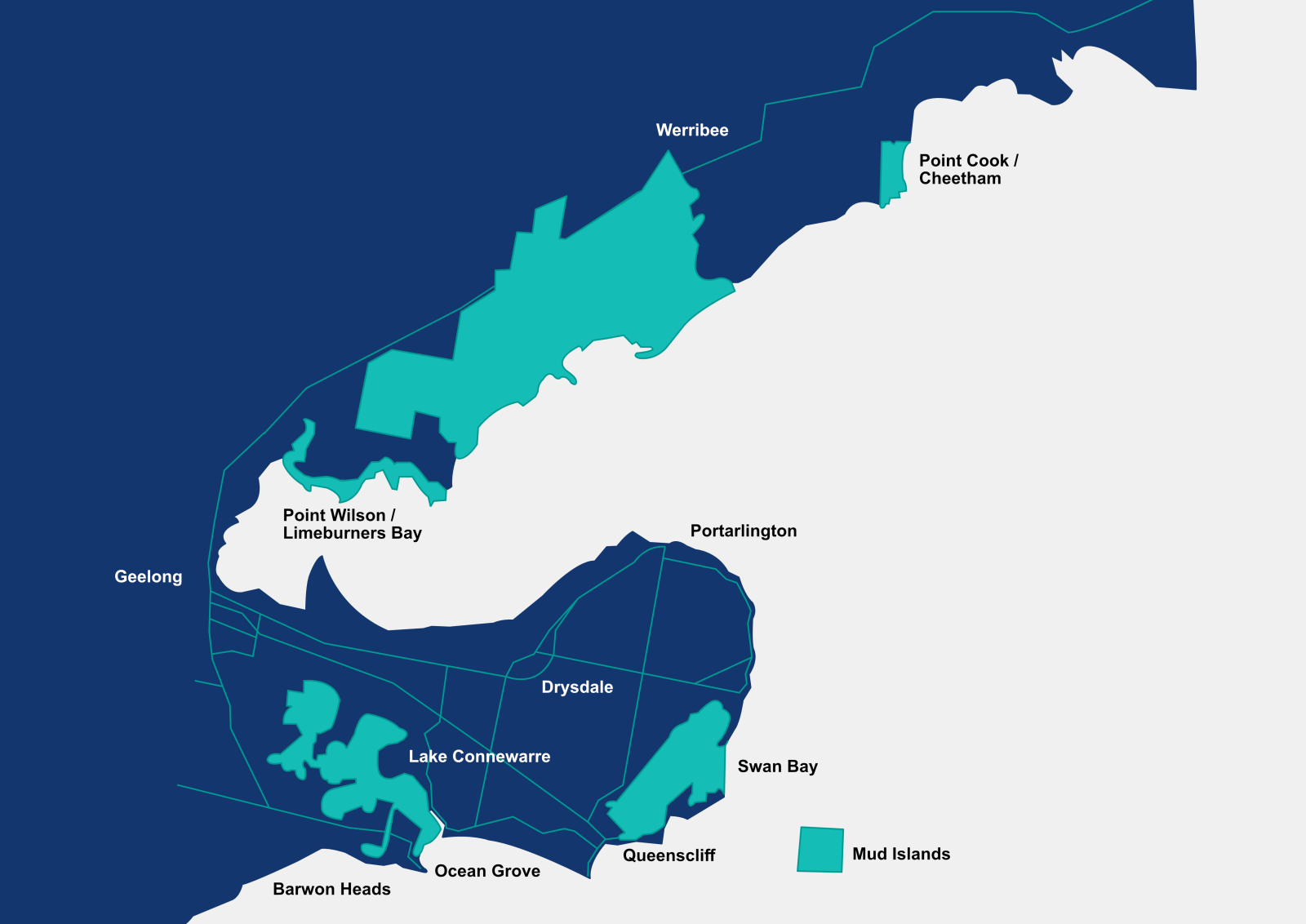 Image: the blue highlighted areas make up the 'Port Phillip (Western Shoreline) and Bellarine Ramsar' sites, sourced from the 'Ramsar Site Management Plan Summary' developed by DELWP.
Bellarine Ramsar Program
Bellarine Catchment Network are being supported by the Corangamite Catchment Management Authority to raise awareness and educate the local community about these sites, their importance to migratory shorebirds and how they can be protected. This support will enable Bellarine Catchment Network to:
Facilitate school education days at Ramsar wetlands
Educate the general public at community events and festivals
Produce over 30 new resources and activities with Ramsar learning outcomes
Engage the Wadawurrung Traditional Owners Aboriginal Corporation at events
Find out what the community knows about Ramsar via a public survey - find out how much you know here!
Bellarine Ramsar Education Program
We are offering primary schools in the Geelong and Bellarine region an opportunity to learn about our local Ramsar wetlands in a unique hands-on experience. These free excursions involve a canoe trip with the Victorian Fisheries Authority, a cultural heritage session with the Wadawurrung Traditional Owners Aboriginal Corporation and birdwatching and wetland games with us at Bellarine Catchment Network. These excursions can only take a max of 50 students and runs from 9am - 1pm during Trimester 3 and 4 during 2023 and Trimester 1 and 2 during 2024. For more information, download our information poster - click here.
If you would like to book a free Ramsar school day, contact info@bcn.org.au
This program is supported by the Corangamite Catchment Management Authority.
Ramsar Resources
We have created and compiled the following resources to up your Ramsar game! Click on the tiles below to see our selection of Ramsar-themed resources; from colouring in sheets, posters, online games and teacher resources.